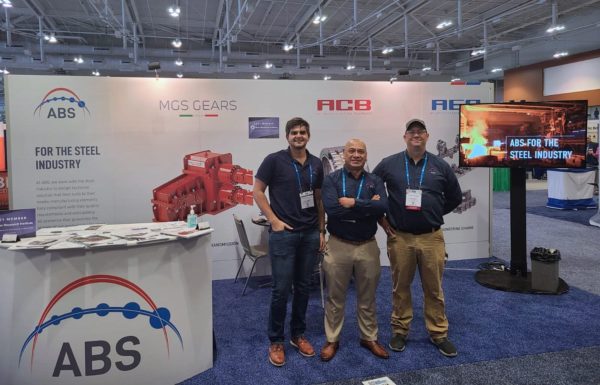 ABS continues its global promotion of custom-made products and specialized brands in the territories where it is present by participating as an exhibitor in AISTech21, the Association for Iron & Steel Technology (AIST) annual conference, which is the most important global meeting in the sector. Anibal Arrascue, Business Development Manager, and Andrew Dykes, Sales Engineer Specializing in Steel Industry, represented our company at this important event.
We had the opportunity to reconnect with colleagues, customers, and old friends in the sector during the conference, which took place in Nashville, Tennessee, from June 29 to July 1, and brought together companies from more than 40 countries, to receive first-hand the latest trends and advances involved in manufacturing processes, and to present the evolution of our tailor-made solutions for the Steel industry.
Furthermore, during the event, ABS enlisted the assistance of Alejandro Pardinas Jr., representing the Gear Research Institute (GRI), to inform participants on the contribution and efforts that this prestigious institution, affiliated with AGMA and ASME, has been making in the field of R&D for industrial gears and bearings.
Thank you to AIST and the outstanding ABS team! See you in AISTech 2022!
ABS bearings, engineering chains and power transmission solutions for the STEEL INDUSTRY…