Here are some pictures and video shot at our main offices in Miami, showing the assembly and quality control of two ACB-brand products that are essential to the smooth operation of the Continuous Casting Machines used in the steel industry: Flexible Cylindrical Roller Bearing and Split Bearings and Water-Cooling Housing.
Continuous casting is a solidification process in which liquid steel is poured directly into a bottomless mold with the cross-sectional shape of the semi-product to be produced: wires, tubes, profiles, or special sections. Today, the mechanical components used by the CC Machines are subjected to extreme working conditions.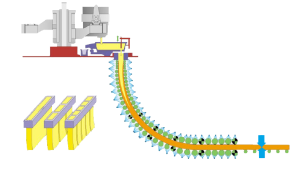 The flexible ACB brand Cylindrical Roller Bearing supplied by ABS have been designed and manufactured to withstand high loads, ensure effective sealing, guarantee a stable temperature, and can self-align.
ACB brand Split Bearings and water-cooling housing units are designed to dissipate much of the heat from high temperature slabs (up to 1,000 °C) by means of a water-cooling chamber in the upper component.
ABS has been working for the steel industry for more than 20 years, putting us in an ideal position to advise and implement power transmission solutions and supply high-quality components customized to the conditions of any type of CC machine.